to view pictures fully click on them.
Here's part 2 of the magazine entry! hope you enjoy it.
<3

TV STYLE: GOSSIP GIRL NUMERO DOS
a while back i did a tv style entry on the hit show gossip girl. i decided to do another episode on the character's style because their style has evolved with their personalities since season 1. for instance jenny humphrey is no longer the sweet little girl we once knew. last time i included the character dan's style as part of the update, but instead of including dan i chose to dissect what vanessa would wear. here goes!
SERENA VAN DER WOODSEN CASUAL STYLE
serena van der woodsen is a free spirit--if she wasn't a rich, popular alluring upper east side socialite she would be a sexy wood nymph. this is reflected in her wardrobe choices on the show. most of her outfits have a neutral palette with a lot of browns, creams, whites, taupes, oranges, muted reds, yellows, golds and blacks. i could so see serena toting the amazingly trendy kooba halle handbag. i love the warm color of the leather and the diagonal zip across the front flap. and wouldn't serena's never ending legs look great sheathed in white skinny jeans and fringe boots? i'd bet you top dollar they would.
SERENA VAN DER WOODSEN EVENT STYLE
whenever ms. van der woodsen has to go to an event, whether that be a party or an evening date she always amps up the sex factor. she ALWAYS has her boobs on display (don't pretend you didn't notice)--and hey, it works for her. but she doesn't just have one weapon for the nighttime, she also displays her lovely pins whenever the chance arises. she would look her usual sexy self in this fitted corset dress with lace trim from mandee for only $34.99. of course serena would wear something more expensive, but i'm trying to make her look accessible for those of us who don't have the entire new york social scene on speed dial. to further lengthen her tall frame she would pair this dress with patent leather black pumps and would further entangle you in her sensuousness with estee lauder sensuous. you can get 1 ounce for $39.50 from neiman marcus!
BLAIR WALDORF CASUAL STYLE
blair is one of my fave characters on gossip girl. i love that she always looks so put together, and simply said: perfect! blair would be right at home in this dotted shirt from forever 21 paired with their skirt with suspender straps. blair always adds splashes of color to her outfit, and one of her fave colors to use are red. all items here are from forever 21, ultra chic no?
BLAIR WALDORF EVENT STYLE
blair is usually the best dressed at an event, because she always takes the time to think out her outfits. blair can be matchy matchy, but it always works for her because she pairs just the right colors together. this catherine malandrino ruffle shoulder dress for $495 from netaporter.com would be PERFECT on blair (and me too, wish i could afford it). since she is queen of the headband she would make sure to pair this beautiful large flower headband with her feminine and flirty dress. the key to being matchy without being obnoxious is to use variations of colors in the same color family. here we're pairing a vivid (almost electric purple) with subdued wine tones. blair's coloring goes perfectly with this color combo.
JENNY HUMPHREY CASUAL STYLE
this time last year jenny humphrey was dressing so much different from this. she was a blair wannabe and always had meticulously put together, and quite girly outfits. jenny is the epitome of good girl gone bad (move over rihanna!) and this is the outfit that she would gravitate to now. a lumberjack shirt, a short and glossy skirt and tights are basically miss. humphrey's uniform. to add some contrast she'd throw on these faux doc matern combat boots for only $24.99 from gojane. and she's got a lot of teen spirit, so this deodorant is practically calling her name.
JENNY HUMPHREY EVENT STYLE
at her guerilla fashion show jenny looked amazing in a strapless mini dress/long dressy top and leggings. she's tall and skinny and can get away with anything. she would more than get away with this dark and lovely corset mini dress for $29.99 from charlotte russe. to toughen up the dress even more she'd slip on these black crinkle bow ankle heel zipper boots from amiclubwear.com and pile on the heavy, dark eye makeup. get the smokey eye look for only 5 buckaroos from http://www.eyeslipsface.com/.
VANESSA'S CASUAL STYLE
vanessa is the personification of current street atyle. she's just so darn cool. she loves trying different color combinations and piling on prints and accessories. i could so see her in this shocking combo of a bright yellow tee paired with tripp NYC the stretch twill pants in yellow check (only $29.95 from karmaloop). to keep it even more urban she's throw on a track jacket and some stylish converse flats.
VANESSA EVENT STYLE
vanessa, unlike blair, isn't always the best dressed at events. she doesn't take fashion as seriously as serena and blair but she always looks comfortable in her clothes. i could so see her in this unique knit surplice dress and funky mary jane wedge. to keep her curls in check she'd make sure to spray some got2b curl-vacious curled up spray into her raven locks.
LILY BASS CASUAL STYLE
i love lily's style. she always looks impeccable. i hope i'm this stylish when i'm older. even if she was just going to the grocery store (which, i don't think she actually does...) she would slip on the perfect little black dress and add colorful pieces such as this gorgeous saturated pink merino ruffle neck cardigan from jcrew and this red fendi FF logo cuff from netaporter.com.
LILY BASS EVENT STYLE
when there is an event lily bass always looks regal, and nothing less. not only would her outfit be impeccable, but her makeup would be too. i'm sure this makeup palette would please her (and yes, those colors on the makeup palette face are the actual pigments from the makeup selected).
FASHION NEWS
want to know what's happening in the fashion world? come drink it up right here!
- proenza schouler bags


proenza schouler has come out with a new bag line! and it's already been seen on the fierce and the fabulous such as mary-kate olsen and the traina sisters. the geniuses behind proenza schouler are lazaro hernandez and jack mcCollough, and they are as excited about this new line as we are. their goal in making a handbag line was not just to make the next it-bags but to make bags that could actually function and had a rugged yet cool spirit about it. and i think they've achieved exactly what they were going for...except since the bags are so cool they might turn out to be it-bags after all! you can now purchase these haute bags from barneys.com. personally i'm loving the medium leather PS1 bag in lime green for $1,595 (pictured above).

alexander mcqueen for target


YAY! there is going to be a new designer collaboration with target and it will be with alexander mcqueen. he says the reason he chose to collaborate with target and not H&M or Topshop is because he wanted to reach Americans in the Midwest who frequent Target often (and he's right, i live in the midwest and i love target...although i don't buy a lot from there, but that will all change soon with his new line coming in!). here is some extra info from nymag.com:
The line will be available in stores and online from March 1 through April 11, 2009. Prices haven't been determined, but it's inspired by the Duke Spirit, a British band with an affinity for the sounds of late eighties and early nineties grunge bands. Lead singer Leila Moss was McQueen's muse for the collection, which WWD describes thusly:



The collection has a muted color palette of black, white, gray and tan with accents of cobalt blue and bright pink. Studs and mesh give items an edge. For example, a chambray sleeveless shirtdress has stud detailing, there's a mesh wrap dress and an open yarn zipper cardigan. Graphic prints and silk-screen photographs give tunics, dresses and T-shirts visual interest. The Leila silk-screen T-shirt with a necklace collar was designed for The Duke Spirit lead singer, while other band members are immortalized on a sleeveless jersey T-shirt.

A sateen strapless pleat dress in a tattoo print of mermaids, dice and anchors is an example of McQueen's penchant for pairing feminine fabrics with tough details — in this case, a studded leather belt.
madonna for louis vuitton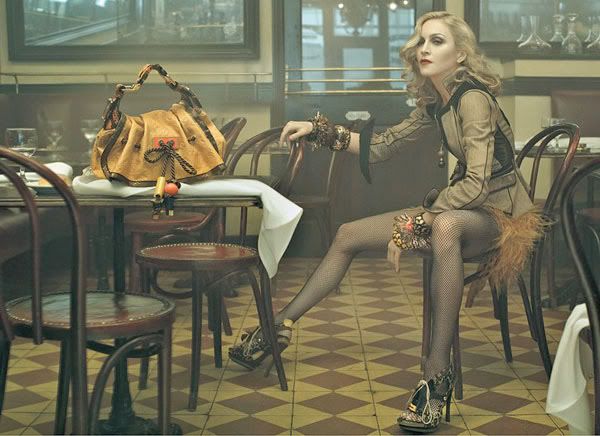 louis vuitton has it's new campaign girl and it's none other than madonna!

- house of holland making designer print tees
henry holland will be making some new cult tees, this time not featuring witty phrases but drawings of some of our favorite designers. one designer being karl lagerfeld...


- rachel zoe to have a second season of her documentary/reality show!


i loved watching rachel zoe shop for her clients and herself and pick out the perfect outfits for them, as well as learn about her assistants and see how they deal with eachother. her show didn't get a lot of viewers initially but it has a cult following (one of the followers being me!) and we can expect to see more of it on bravo in mid-2009. for those who don't have cable you can watch the first season on youtube and maybe the second season when it starts airing.

TOP 10 BEST DRESSED LIST
we have some new celebs on our top ten best dressed list! i had a fun time picking them and think they all dserve to be on the list because their style is consistent but not boring and they always look great. i'll miss our past best dressed list that consisted of carrie underwood, nicole richie, victoria beckham, rihanna, angie harmon, zoe saldana, joy bryant, rachel bilson, kate hudson and nicky hilton. but as we're going into a new year here (in no particular order) are our new top 10 best dressed celebs!

Zoe Kravitz- with a name like zoe, and a father like lenny kravitz (and wild child mom lisa bonet) miss. kravitz was bound to be unique. not only is she cute as a button, but her style is incredibly unpredictable, intrigueing, exciting and cool. everytime i see pictures of her at events or even of her streetstyle i'm always pleasantly surprised. her outfits are nonchalant and yet at the same time creative. she wears what she wants and how she wants with a casual confidence.

Leighton Meester- how could this girl not be on the list? and btw that's diane von furstenberg in her picture, leighton was smiling so beautifully in that picture and she has on once of my fave outfits on her, but i couldn't crop beautiful dvf from the pic...so they're both in the picture but ms. meester is on the list! ANYWAY, she's on the list because even though her character on gossip girl has amazing style, leighton meester manages to stray away from that ultra put together style and still have a GREAT dress sense that's all her own.

Kerry Washington- as one of my favorite bloggers once said, "Kerry Washington doesn't get enough credit [for her style]". and that blogger is oh so right. kerry always looks amazing on and off of the red carpet. not only is she a sweet and talented actress she looks hot (yet elegant!) everytime she steps out in front of the camera! her choices are not too predictable but they're always perfect.

Kate Beckinsale- kate always looks so feminine and lady like without being sicky sweet. i love her street style, she loves to pair slouchy knits with skinny/drainpipe jeans and heels and her fave uber huge sunglasses. or she'll wear a floaty blouse with slouchy jeans (but makes sure her waist is defined with a belt or something) with her hair flowing freely in the wind. her red carpet style is just as fun to watch.

Charlize Theron- this girl is a goddess, but we already know that. how can she look so good, and dare i say it, sexy all of the time? there's not much to say except ms. theron deserves to be on the list. she's just so amazing no explanation is really necessary.

Terri Hatcher- i bet this choice is a bit unexpected isn't it? a lot of people don't like terri hatcher...i don't know why really...if you know why please tell me. anyway, i think that she has a great red carpet style. it's better than her street style which is very casual, yet classic. her red carpet style could best be described as neo-romantic. she always wears dresses to accentuate her body shape and she always picks the best shades for her complexion. her dresses make her look like a damsel waiting to be swept away into the arms of her romeo, but at the same time her look tells us that if romeo didn't come in time she'd slink off with someone else. terri takes little risks on the red carpet that aren't huge, like wearing only a plastic bag on the red carpet, but that make her one to watch.

Ashley Olsen- for the record, i prefer ashley's style over mary-kate olsen. that is why she is now on my top 10 best dressed celebs list before mk. who knows, maybe mk will find herself on this list someday? but for now all the glory is on ash. the older of the olsen's (by two minutes...i only know that because i was reading that a few days ago on people.com) style is classic, chic and modern. she loves to mix and match jewelry but not to the extent where it adds 5 pounds to her bodyweight and loves well cut dresses (such as by calvin klein) with unexpected touches like cutouts at the waist, or a beaded hem or scalloped sleeves. and she never leaves home with her blazers and an amazing handbag. this woman is so busy, writing books, making appearances on tv shows & at parties, designing for her (and her sister's) various fashion labels, doing interviews/shoots with magazines, and yet she still holds her own in the style realm--instead of throwing on sweats and a shirt for day and letting a stylist dress her at night. she's great.

Lucy Liu- i've admired ms. liu ever since charlie's angels. she's so pretty, and her hair is so shiny! besides that she has a presence on the screen--and that doesn't fade away when it comes time to choose her clothes. her choices are always whimsical and fun, never boring. even if she wears a black dress it'll be different from the others, whether it has an unexpected fabric, lots of beading/embroidery, etc. like kerry washington i don't think lucy liu gets enough credit for looking as good as she always does.

Eva Mendes- eva mendes is a sex bomb. she just oozes sex appeal--but at the same time she does the whole sexy thing with a lot of class. as in charlize theron's case there's really no need to explain why eva is on the list. she always looks good, how could she NOT be on the list?

Kate Moss- come on, you knew this was coming. i've had (i think) 3 or 4 top 10 best dressed celebs right now lists and i don't think kate moss has been on any of them (you know...i should start keeping track). but she deserves to be on it now more than ever. she's a supermodel that has now become a supermogul, with a crazily succesful line at topshop, a new perfume out, a bajillion magazine covers and editorials, and she even has a cult following. basically the whole world watches kate moss for inspiration when they feel like they need to dress better. as one editorial of hers read, "all hail kate!".
i hope you agree with my choices, tell me what you think!
and that brings an end to my magazine issue. we are soon to embark to a new year. starting december 21st, i'll be posting everyday until december 31st/january 1st when it is the new year. so that will be ten days of daily posting. i don't quite know what i'll be posting about...but i wanted to do something special (besides the magazine entry) for the end of the year! i hope you support me with your comments and such. much <3